Holy Spirit College is a unique environment being the first Catholic school of its kind in Far North Queensland; we provide individual education for disengaged secondary aged young people. The college is an initiative of Catholic Education Services, Cairns Diocese. There are two campuses one in Cooktown and the other in Manoora, Cairns.
The main Cooktown Campus is a boarding and day school with residences for 32 young people while the Cairns campus is a day school facility. Both of the campuses are co-educational and provide learning opportunities specifically for disengaged young people.
Disengagement by young people from schooling is a serious social issue and there are assumptions, although not always correct, for disengagement to being associated with youth crime, substance abuse, health issues and welfare dependence. There is no magic solution to these long term deep-seated issues; we are confident the college is a part of a positive community response to address issues by reaching out with compassion to young people and their families.
Building relationships based on respect and responsibilities are the foundations on which we build in working towards reconnecting young people to the wider community as productive citizens. The young people are supported by a multidisciplinary team of mentors and well-being specialists. The mentors include specialists in Music, Visual Arts, Outdoor Education, Manual Arts along with English and Mathematics.
The Cooktown Campus is the main campus of Holy Spirit College. It is situated on the corner of Hope and Burkitt Streets.
While young people from all areas and backgrounds are welcome at the College the present cohort is 100% Indigenous young people from Cooktown, Hopevale and Wujal Wujal.
The campus offers programs for day and boarding. The boarders have a choice of being in residence on a full-time or weekly basis. The weekly basis works for young people from Hope Vale as they can catch a bus in on Monday mornings and return home on Friday. The purpose of weekly boarding is to allow young people the opportunity to concentrate on their learning and develop friendships during the week, while keeping in close contact with their families and communities on weekends. Also, weekly boarding appeals especially to young people who wish to join a school but who live too far away to be day pupils. Families often choose weekly boarding to enable their children to concentrate better on their studies by reducing the time spent travelling to and from school.
The boarding facilities offer 16 female and 16 male residential places in single gender houses placed on opposite sides of the property. The House Parents, Robyn & Robert Bloomfield live on site and the Boarding Assistants, Lyman and Lana, live in units separated from the young people's residences by a breezeway.
The mentors offer a wide range of project based learning and core subjects. A major part of the learning program is built around individual young people's needs and goals with work experience and work placement being a focus for the older teenagers.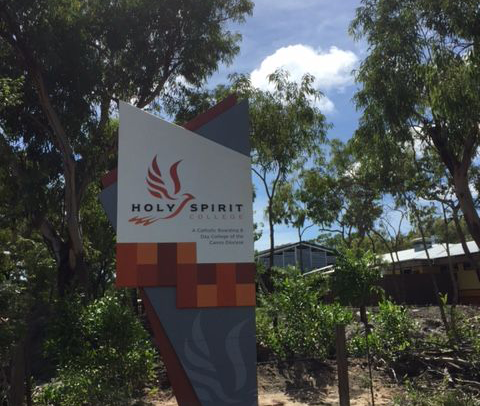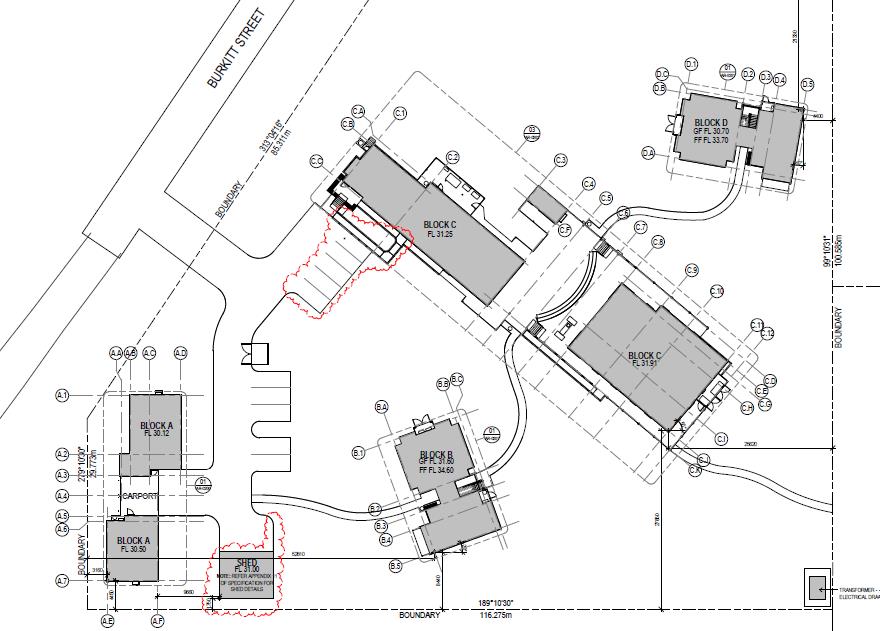 Block A – House Parents and Transition Houses
Block B – Female Boarding House
Block C – Administration and Learning buildings
Block D – Male Boarding House
The Manoora Campus is a small, very urban environment in Manoora, located about 5 kilometres from Cairns CBD. Young people at the campus come from as far away as Palm Cove to the north, Gordonvale to the South and Kuranda to the west.
Every young person is welcome at Holy Spirit College no matter what their background. Our only criteria for enrolment is that the young person is disengaged from other educational environments. The present cohort comes from a wide range of cultural and socio-economic backgrounds.
Young people's voices are important to the college staff and this holds to be very true at Manoora where young people participate in opinion surveys and workshops. The young people are willing to give their honest opinions and feedback.
"Give the pupils something to do, not something to learn; and the doing is of such a nature as to demand thinking; learning naturally results." John Dewey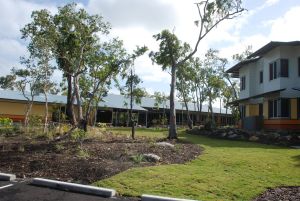 Our boarding houses are home for up to 32 students. There are two single-sex residences with 8 twin rooms for girls and 8 twin rooms for boys.
Boarders are well supervised but in a relaxed and friendly family atmosphere that allows for the individual care of each young person.
Comfortable accommodation within a warm, friendly environment
Residences are seperated by the day school buildings
Two common room areas with snack-making facilities.
All rooms air-conditioned
Two young people share a bedroom and two bedrooms share an on-suite bathroom.
Comfortable king single beds with hypo-allergenic mattresses
Bedlinen and towels provided
Individual lockable storage is provided to secure personal belongings
Wireless monitored internet access
Telephones connected to House
Disabled access accommodation for a boarder with special needs is available
Like home, all floors in the Boarding Houses have common areas. These Common Rooms are across the breezeway on the upper floors and are shared by all residents of the house. In each the young people are able to gather, relax and socialise with others. There is a single-sex policy in place which means the girls and boys do not socialise in each others' residence. Each Common Room features a kitchen which can be used for making tea, soup, noodles, popcorn and a large comfortable lounge area with TV, along with a quiet reading or games room.
The Common Room areas have a domestic laundry with washing and drying facilities. The young people are encouraged to do their personal clothes washing on a regular basis, this assists them in developing into independent adults.
The young people's sheets, doona covers, pillowcases and bath towels are washed regularly throughout the week. Each floor of the houses has a rostered day for the removal of the items for washing. On the rostered day young people place their items in a laundry trolley, in the morning, and collect fresh linen at the end of the school day.
While the young people are expected to keep their rooms and bathrooms clean the college housekeeper checks the residences daily to ensure it is always kept clean, tidy and in excellent repair.
The Dining Room is shared by the day and boarding schools. Everyone attending the college can share in breakfast, morning tea, lunch and afternoon tea together, during the week. The young people in residence also have their evening meal in the dining room. This room hums with the sound of happy young people and staff at each mealtime. The cook takes a genuine interest in the young people and cooks for them with health, nutrition and enjoyment in mind.
Our boarders enjoy sumptuous varied menu items in which they have a say. Each Monday and Friday breakfast features an assortment of hot and cold dishes and fruit. Tuesday to Thursday and on weekends breakfast is continental in style. Lunch can be a tasty hot or cold dish with salads available and there's always plenty of baked on offer for morning and afternoon teas.
Good table manners are important and are encouraged, as is punctuality at the start of mealtimes.
The safety and security of all the boarders at all times is of paramount importance to all of the College staff who care for the young people.
Parents, families and carers of young people boarding at HSC can be reassured in knowing that their children are safe and secure whilst residing at the College. The residences are wired with an automatic security system that is activated after hours.
The grounds are covered by a 24 hour security camera system and staff are on hand, at night, through a direct telephone link.
Smoke detectors are fitted in all areas within the Boarding Houses, and regular fire drills are held to ensure all staff and boarders are practiced in fire safety and evacuation procedures.
To further ensure individual safety, boarders are not permitted to leave the College grounds without the approval of their parents/carers or a responsible family member. Boarding Staff on duty and corresponding procedures are in place to facilitate this process.
If a young person should leave the grounds without permission, they are treated as missing under the College's safety procedures and the associated processes are implemented.